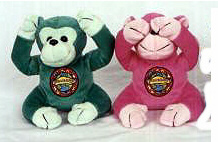 Two Monkeys BVIGroups!
Two Monkeys BVIGroups is a selection of E-mailing lists that may be of interest to the DeafBblind, blind, and visually impaired community. Friends, spouses and parents, as well as anyone in any way connected with this community, may find it's resourses valuable. If you know of an E-mailing list that is not part of this collection, or if you are a list owner of a new group for the DeafBlind, blind, and visually impaired, please do drop me a line to have your group included in the next update.
Accessibility | Braille | Business | DeafBlind | Education | General | Guidedogs |
Ham Radio | Issues | Parenting | Relationships | Specific Conditions | Miscellaneous
Site designed, compiled and edited by: Peter Logue.
copyright Peter Logue 2001